LanguageBookings.com is a trusted community marketplace for students to discover and book language courses and student accommodation around the world. It was created to help students find, compare and reserve language travel packages worldwide.



Since it was founded in 2010 in Dublin, Ireland it has been growing non-stop. LanguageBookings,com is honoured to had won the prestigious STM Star Award as the New Agency 2012 managed by Study Travel Magazine. This means that language schools, Universities and Colleges throughout the world nominated LanguageBookings.com as one of the world's leading new agencies.

At Languagebookings.com, students can search for and browse language courses by any criteria including course type, student per class, price range, resulting qualification and the ability to browse by country, or city to ensure they find the school in the exact location that they are looking for. If the students want to book a language course and accommodation they can easily do this by browsing by accommodation type, room type and board. Schools may also be sorted according to popularity, price, or reviews score. Helpful student reviews lend an unbiased perspective, and school videos offer a virtual tour of the school and its surroundings. Languagebookings.com is primed to make it quicker and easier than ever before to book excellent language courses for individual students or student groups.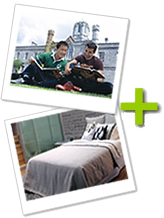 Meanwhile, any kind of school, whether independent or a chain, high end or budget, large or small, can promote their courses and seasonal special offers easily and efficiently to a broad range of students. In the same way people, families, residences, student houses and apartment owners can showcase and rent their accommodation effortlessly to international students.

LanguageBookings.com is one of the premier language courses and accommodation booking websites. It offers a wide range of services designed to make language courses and student accommodation booking faster, easier, and more affordable. Its growing inventory of schools and host in around the world and wealth of insider information make it easy and fast for students to find and book language courses and accommodation in many destinations.
Our Service Guarantees

Best Price Guaranteed
100% guaranteed, that you will pay the lowest price. We offer you the lowest possible course rates - you never pay more than if you booked directly with the school itself or anywhere else. Besides, our service is free. We do not charge any booking fees.

Exceptional Customer Support
Whenever you need assistance, you can always call our customer support. Before, during and after your course, we are here for you. You can easily contact our experienced and friendly consultants. We're always just a click away through e-mail, phone call, skype or even live chat!

Your booking 100% confirmed!
It's very unlikely that something will go wrong with your booking once confirmed by the language school. In fact we're so confident, that if you don't have your course place at the selected school, we'll credit your account with your full deposit AND find another possible alternative for you.
Trust & Safety
We are a marketplace that promotes trust and collaboration. This is why we have built the best ever class tools and services to surely assist and hone you into making the right decisions. Find students reviews, host references, school quality seals and accreditations, ... learn more
Where do we go from here?
Find your Study Travel

Find your langage course and student accommodation abroad.

Search

List your School

Join us today and increase language school business instantly.

Learn more

List your Place

Rent your accommodation to students and earn money.

Learn more