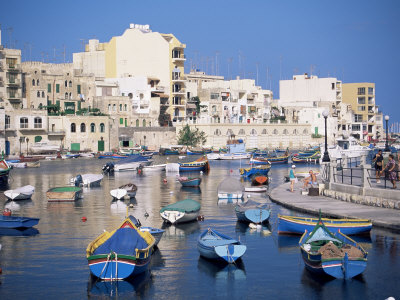 Malta is an oasis in the middle of the Mediterranean Sea. Thanks to its history linked to Great Britain, Malta is the ideal place to learn English. Due to its strategic location, Malta has been contested by various powerful countries over the centuries.
The archipelago consists of three islands of unique beauty: Malta, Gozo and Comino. A fourth island, equally beautiful, is Cominotto, which is uninhabited. Several populations have settled in Malta throughout the course of history, all with the purpose of conquering the island: Phoenicians, Greeks, Carthaginians, Romans and Arabs.
This peculiar historical background has turned Malta into a unique place for its mix of cultures. The traces of ancient civilizations and struggles for the territory can be seen in the prehistoric temples, forts, castles, medieval dungeons, baroque palaces and also Norman cathedrals.
In 1530, King Charles I of Spain donates the Maltese Islands to the Knights of St. John, a military religious order also known as the Order of Malta. This arm of the Catholic Church fights against the Muslims on several occasions, during the so called "Crusades".
In 1798, Napoleon invades Malta and deprives the Knights of St. John of the ruling power. The Maltese do not support the French occupation at all. Great Britain, aware of the strategic power of this archipelago, decides to intervene with a military blockade and numerous battles to demolish the French power in 1800. The British rule is sealed by the Treaty of Paris in 1814 and the islands remain a British colony until acquiring th independence in 1964.
In 1974, Malta becomes a Republic and more recently, on the 1st of May 2004, the country achieves the inclusion in the European Union. Malta is considered an open air museum in the Mediterranean Sea for its high concentration of cultural attractions and historical richness. With regard to this, the history of Saint Paul's Bay is fascinating. In the year 60. C., the apostle went ashore there and today, thanks to its crystal clear water, it is one of the most beautiful places on earth to enjoy breathtaking sunsets.
In Malta you won't need travelling long distances. The total area of the three Maltese islands is only 316 square kilometers. Its nature makes it as an exceptional place to enjoy the summer in the Mediterranean style. Here you'll have the chance to enjoy beaches, traditional food, hiking, water sports and a growing multiculturalism brought along by students of English each summer.
The archipelago with the highest amount of accredited English schools
The British presence for more than 150 years ago makes Malta one of the best options to learn English abroad. Malta has a very high number of accredited schools in English, to be a place with a population of just 400.000 inhabitants. For its excellent teaching quality and affordable prices, Malta attracts more than 30,000 students of English each year.
The official languages are English and Maltese, which comes from the Phoenician. Moreover, the majority of the population understands and speaks Italian. People in Malta are extroverted, easy-going and friendly. It will be easy to put into practice what you learned in your English classes, talking to strangers in public spaces, as the inhabitants of the archipelago are always ready and willing to give information and have a chat on the street.
The Maltese live without haste. They enjoy their spare time amid a multifaceted architecture, as it presents certain features from Northern Africa, a touch of British nobility – in Malta they actually drive on the left side and they have the typical London phone booths - and Italian-style Renaissance buildings. The most prominent buildings in the profile of the Maltese cities are the churches: there are nearly 300, with various architectural styles. If you pay attention to the names of the cities, you'll become aware of all the cultures that have been mixing up in Malta: Victoria, Valletta, Birzebbuga, Mdina, Rabat, Birzebbuga and Saint Julian's, for example.
Undoubtedly, the most famous Maltese character is Corto Maltese, a melancholy sailor born in Valletta, son to a British officer and an Andalusian prostitute. The adventures of Corto Maltese, written by Hugo Pratt, are legendary comics which have been translated into several languages and even brought to animation by Pascal Morelli.
Malta, due its exceptional geographical features, has been chosen as the set for movies by Steven Spielberg, Ridley Scott and other renowned directors. You'll be surprised to know that classics such as Orca, the killer whale, and super productions such as Agora have been filmed in Malta.
Once in Malta ... Do not miss it!
Imagine yourself tanned, with your books to learn English in your bag, the smell of the sea on your skin and a list of places to visit. Here are the essential ones: The most important cities in Malta are La Valletta, the capital, Rabat, Mdina and Marsaxlokk.
Travel back time at the Museum of War in La Valletta.
At Fort St. Elmo, apart from the collection of weapons and military artifacts, military parades displaying uniforms from the past are organised on Sundays.
The Great Cathedral of Saint John's is a triumph of gold.
Simple and modest on the outside, it is a triumph of decoration and gold on the inside. Also, there are some stunning paintings by Caravaggio. The best you can find regarding the religious architecture in La Valletta.
See the orange limestone in Mdina.
While walking along the walled city of Mdina, you'll see a limestone orange tint in its buildings. Silence in the narrow streets and very few cars. It's the ideal place to hide and steal a kiss.
Test your bravery in the St. Paul's catacombs.
A huge underground cemetery of the third century whereSt. Paul hid for a while. Right in the heart of Rabat. Full of mysterious nooks and galleries with a terrifying atmosphere. Not for cowards!
A Sunday at the fish market in Marsaxlokk.
It is interesting to see the typical coloured fishing boats moored in the harbor. Here you can eat the best fish ever in Malta!
COMINO
Comino is the smallest island of the archipelago: it is only 3.5 square kilometers wide. Officially there are only 4 people living there. Therefore, forget the cars, there is not a single one over there! It's a good place for enjoying the beach and the low mountain landscapes!
Hit the beach when the sun starts heating up!
Grab your swimsuit and discover the lovely beaches of Saint Mary Bay and San Nicholas Bay or visit the Blue Lake and dive into the water to reach its gorgeous white sandy bottom.
Up to 80 metres above the sea level.
Get to Saint Mary's Tower, built by Alfonso V, King of Aragon in the fifteenth century, to protect Comino from the pirate attacks. It was used as a the movie-set for "The Count of Monte Cristo".
GOZO
Gozo is the third island, just 20 minutes by ferry from Malta. Its most significant cities are Victoria, Xlendi, Xlendi and Santa Lucija.
Just fortresses and flowers in Victoria.
After walking around the city, a must is Fort Saint Angelo, followed by the Inquisitor's Palace and Fort Rikazoli, one of the sets of the movies Gladiator and Troy.
Gozo 360º a complete trip around the island and its history.
In less than 30 minutes, sitting comfortably in an air-conditioned room, you'll see full-color images that describe the island as it is: a piece of heaven.
AND MUCH MORE ...
Shall we go partying?
Paceville, near St. Julian's, is the busiest nightlife area. You'll experience outdoor parties in ancient courtyards that keep going until the next day, on a rollercoaster of fun, dancing, drinks and ... much more!
Gianpula. It is the largest outdoor club in Rabat. It has restaurants, swimming pools and shops. The entertainment mecca since 1980, when it was founded originally.
Club Number One. What you live in this great outdoor club, you'll never forget! It is located in the centre of T'Qali's. Its thai decoration, its huge stage and the elite DJs will boost your nightlife!
V-Gen. Voice of a Generation is the perfect club for rockers. Country rock bands play live
To eat good, at a good price
Zeri's Restaurant. Perfect to sample regional delicacies. Excellent wines. Unbeatable fish. Do not leave without trying the local cheese pie!
Club Sushi from Tokyo to Seoul. Not the typical Mediterranean food, but for 10 euros you get good quality sushi and generous portions in a very nice location in Paceville.
Bouquet Garni Mellieha. Nice and homely. Very nice treatment and exquisite food made with local, seasonal products. It is essential to book the table.
Pastizzis, if you're in a rush, they'll save your life anywhere, anytime! They are puff pastries stuffed with cheese, vegetables and whatever you want; you can find them in bakeries and small shops. Mmmm, delicious!
Events in Malta 2013
Join the experience of learning English in Malta with its rich calendar of cultural events.
Malta Arts Festival: Arrived at its eighth anniversary, it includes dance performances, choral music, theater, concerts of piano and guitar. The greatest festival of arts.
Farsons Great Beer Festival is the outdoor largest festival in Malta. More than 50 shows on big stages. You'll have the chance to taste both local and international beers. Date: July. Location: T'Qali National Park.
Birgufest is a lovely party throughout the Maltese streets with thousands of candles lit up at night. There are typical food and sweets everywhere. Date: October. Location: Birgu.
Mdina Grand Prix is an annual celebration for lovers of motor vehicles worldwide. Date: October. Location: Mdina. Mediterranea Festival is the celebration of more than 7000 years of culture in Gozo. Theatre, traditional meals, opera and themed tours. Date: November. Location: Gozo.
In Malta you'll expand your world to the vastness of blue. Dare to live it!
English courses Malta - Your Secret to English Speaking Success!
English courses Malta is advisable for anyone who is serious about learning the English language while seeing the best of South Europe at the same time. The rich historical anecdotes of Malta are saturated with places of interest and attractions.
English courses Malta is highly recommended for non-native English speakers who want to improve their grammar, pronunciation and speaking skills. Not only will you be with a group learning the same levels of English courses Malta as you are, you can make a lot valuable friends in the process.

A South Europe country, Malta consists of an archipelago located in the Mediterranean's center which is 288 kilometers east of Tunisia and 93 kilometers on Sicily's South. Covering just over three hundred square kilometers, Malta is one of the world's most densely populated and smallest countries. It is made up of tiny towns and its official language is English. Learning English courses Malta is sure to be well-pronounced and grammatically correct.

As you learn English courses Malta, you will be exposed to some of the most beautiful scenic places in the world that tourists from all over seek to explore. For this reason, not only will you be learning impeccable English, you will also be able to satisfy your craving for culture in heaps and bounds. Rather than learning English in a non-native speaking country with no history, English courses Malta will be an enriching experience you will most likely never forget.
Why English courses Malta?
English courses Malta will expose you to attractions in Malta including the beaches that are the main Malta attraction, Mdina which features noble houses and lamp-lit evenings and Valletta which is the capital of Malta and called 'one of the most historically concentrated areas in the globe.'

Not only will your visit to Malta improve your English tremendously, you will also leave Malta culturally richer in history and experience.

Besides the Malta beaches, the capital Valleta is host to regular concerts, plays, street events and exhibits. There is a rich prehistoric artifact collection and the War Museum is home to period costumes, re-enactments and a Sunday military parade on the weekends. English courses Malta will help you learn how to speak English fluently so you can ask questions about museum schedules in English.

You can take great photographs of the Megalithic Temples including the oldest freestanding world temple called Ggantija. There is also significant tourist attractions you can't miss including Fort Rinella and Fort St Angelo. While in Malta, you can't miss the Maritime Museum in Vittoriosa as the gorgeous interior and exhibits will leave you thinking about extending your Malta trip.