Explore Historic and Exciting Ireland While Taking English Courses in Dublin

If you are looking for a great destination for your language study abroad, consider taking English courses in Dublin. The capital city of Ireland, Dublin is a colourful and exciting place to visit with lots to do to take in the local culture. Besides taking classes at any of the English schools in Dublin, you will have the opportunity to experience a very rich culture full of Celtic and Irish tradition, making your stay a very enjoyable one.

While studying in Dublin, there are so many important and fun things to see and places to visit such as the Abbey Theatre where many famous Irish writers and actors like William Butler Yeats and Orson Welles got their start, the Temple Bar, an infamous local hot spot, Trinity College, Ireland's oldest and most famous university and the National Gallery of Ireland. St. Audoen's Church, St. Stephen's Garden and Dublin Castle are places where the impressive Celtic architecture and Victorian gardens can be enjoyed. And of course there is the infamous Guinness Storehouse, Ireland's number one tourism attraction, so anyone visiting Dublin definitely needs to stop there!

Learning in Dublin can be quite beneficial to English language students since by their very nature, Dubliners love to talk to people! It is easy to strike up a conversation and learn from it while in Dublin. Whether talking about the local attractions, places to visit or try the local cuisine, or even the many famous people who are from Dublin and Ireland such as poet James Joyce, writers Bram Stoker and Oscar Wilde and musicians Enya, Bono (and the entire band, U2), and actors Colin Farrell and Jonathan Rhys Myers just to name a few well-known names, students will receive a wealth of knowledge by simply exploring the local culture and the many things it has to offer.

With so many interesting things to do in your off time, taking English courses in Dublin will surely create the best memories of your time abroad, as well as provide a great environment for absorbing the most from your studies.


Find the lowest prices for English Language Courses in Dublin!
Are you looking for English language schools in Dublin or a English summer school in Dublin? How about study English in Dublin or language courses for adults in Dublin? Whatever type of English course you are looking for, LanguageBookings.com will help you find it—and at the lowest possible price!
Browse over many English schools in many locations in Dublin until you find the English course and school that is right for you. We make it easy to find discount prices at the most popular schools in Dublin and we provide detailed school information, photos, videos and students reviews for a great variety of English schools in Dublin. Choose LanguageBookings.com for all your courses reservations, and see why more and more students are choosing us to study English language in Dublin!
English in Dublin: The perfect choice for your English course!
No matter what nationality you are, you will benefit from taking English in Dublin. Not only is this a first class method of learning the English Language, you will be exposed to a culture who speaks English everywhere. Unlike your own native country in which English is merely a second language,
English in Dublin
exposes you to a culture in which English as a language is used on a regular basis.
This is much more preferable to learning English in a country where English is not the native language. You will, after all, learn English in Dublin faster when you need to use it each and every time you do something. Learning English in your own country where English is not spoken as much may result in slower language development, which is unnecessary if you learn English in Dublin.
English in Dublin usually offers not just group programs but also junior summer courses and exam preparations for adults. Teacher Training certificates including DELTA and CELTA courses are also offered as well as executive and corporate language training courses.
Reasons to Study English in Dublin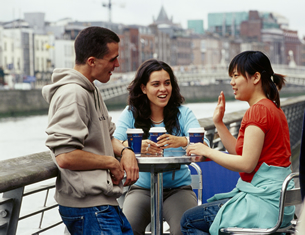 There are many reasons you should seriously consider taking English in Dublin. Not only will you meet fellow classmates who have the same level of speaking as you, you can also converse with licensed certified native English speakers in a comfortable setting.
When studying
English in Dublin
, grammar is taught in each of classes. In addition to grammar, the actual 'speaking' of the English language is done successfully by encouraging people to successfully speak at all times. Class sizes tend to be smaller which means that you get quality attention from the teacher to guide you through the classes.
When studying English in Dublin, many times, large class sizes tend to cause the instructor not to be able to pay enough attention to the progress of each student. However, smaller class sizes are the opposite.
The teacher is able to pay more attention to each of his or her students when there are less of them. You get quality teaching from native-speaking, experienced, fully qualified language teachers.
Another reason to study English in Dublin is that besides the friendly atmosphere that each class offers, you are going to be located in one of the most beautiful places in the world and a great location. There are a broad array of levels you can choose from starting from beginner to advanced.
There are part time night classes, full time
English in Dublin
classes, preparatory Cambridge exams for English, courses that are private, courses that are private for both Junior Cert and Leaving Cert. There are also business language courses you can take which takes into consideration the various business terms that come up in the course of a business meeting.
As you learn English in Dublin, you will be exposed to all the wonderful attractions that Dublin has to offer. These include Kilmainham Gaol, Dublin Custom House, Cathedrale Saint-Patrick Dublin, Dublin Castle, the Guinness Storehouse and The Old Jameson Distillery. So now you know why English in Dublin is the choise to make!
Our Service Guarantees

Best Price Guaranteed
100% guaranteed, that you will pay the lowest price for English courses in Dublin. We offer you the lowest possible course rates - you never pay more than if you booked directly with the school itself or anywhere else. Besides, our service is free. We do not charge any booking fees.

Exceptional Customer Support
Whenever you need assistance, you can always call our customer support. Before, during and after your course, we are here for you. You can easily contact our experienced and friendly consultants. We're always just a click away through e-mail, phone call, skype or even live chat!

Your booking 100% confirmed!
It's very unlikely that something will go wrong with your booking once confirmed by the English language schools in Dublin. In fact we're so confident, that if you don't have your course place at the selected school, we'll credit your account with your full deposit AND find another possible alternative for you.
Trust & Safety
We are a marketplace that promotes trust and collaboration. This is why we have built the best ever class tools and services to surely assist and hone you into making the right decisions. Find students reviews, host references, school quality seals and accreditations, ...
learn more